Product Description
Trifold Portable AS series Suitcase Ramp
The Trifold Portable AS series Suitcase Ramp is portable and has a unique 3-fold design that allows for ultimate portability when longer ramp lengths are needed. The ramp is designed to be used and carried as one unit, or can be quickly separated into two individual sections. Offered in sizes ranging from 5 to 10 feet in length and is ideal for raised landings, steps, or larger vehicles. Made from aircraft-quality aluminum, this ramp features an applied, slip-resistant surface and self-adjusting bottom transition plates for easy conversion from ramp to ground.

Product Features
Trifold Design:
The unique 3-fold design of the SUITCASE Trifold AS Ramp makes it easy to set up and transport from place to place. This portable ramp can separate into two easy-to-carry sections for easier transport and reduced handling weight.
Slip-resistant Ramp Surface:
The SUITCASE Trifold AS Ramp offers an applied slip-resistant texture that allows mobility devices to retain traction in all weather conditions.
High-strength Aluminum:
Formed from high-strength aluminum which will not rust or corrode over time.
Patented Hinge:
Features interlocking brackets to provide smoother operation and reduced pinch points.
Self-adjusting Bottom Transition Plates:
Independently adjust for easy conversion from ramp to ground.
Made in the USA and carries a lifetime warranty.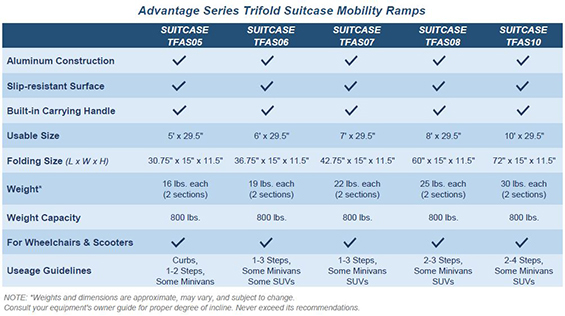 Custom Field
Product Reviews