Product Description
The Activox DUO2 - The First Fully-Integrated Stationary Oxygen Concentrator and Portable Oxygen Concentrator System
The Activox DUO2 is the first fully-integrated stationary oxygen concentrator and portable oxygen concentrator system, combining the benefits of a stationary home oxygen concentrator with the portability of the lightweight LifeChoice Activox portable oxygen concentrator offering a 24/7 oxygen therapy solution.
The integration of these two oxygen concentrators is accomplished through a charging station located on top of the home oxygen concentrator that allows you to dock your Activox portable concentrator. The Activox battery is charged as it sits connected on top of the home concentrator; there is also a charging port for an external battery. When you're ready to leave home, you simply disconnect the Activox portable oxygen concentrator from the DUO2 home oxygen concentrator unit and you're ready to go. The Activox POC will also be used diagnostically to test the DUO2 home concentrator.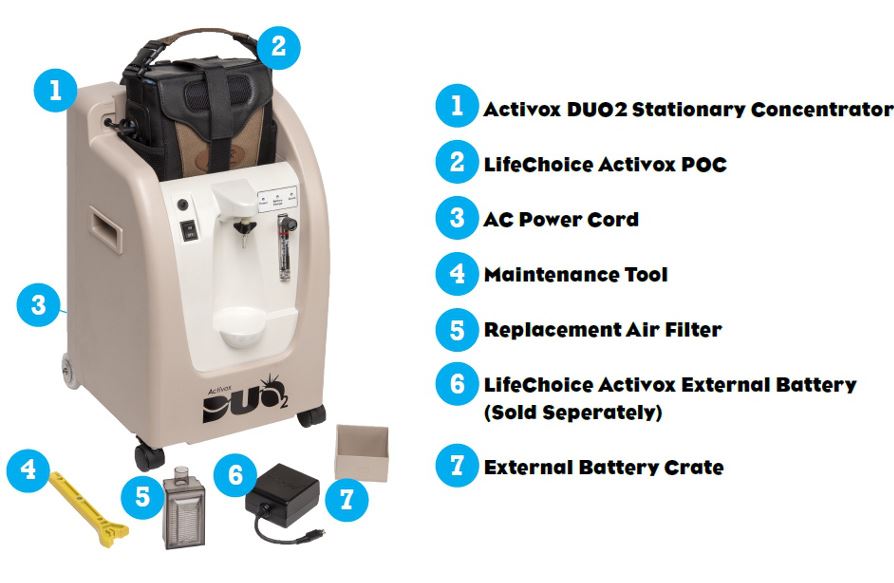 | | |
| --- | --- |
| Weight | Stationary: 37.5 lbs. / POC: 4L (4.8 lbs.), Pro (4.3 lbs.), Sport (3.9 lbs.) |
| Flow Setting Control | Stationary: 0-5 LPM / POC: 1-4 LPMeq PULSE-WAVE |
| Dimensions | Stationary: 14.2″w x 24.8″h x 14.6″d |
Reliable Oxygen Delivery
Activox DUO2 features two types of oxygen delivery. The stationary base provides up to 5 LPM of continuous flow oxygen while the portable oxygen concentrator provides up to 4 liters per minute equivalent of PULSE-WAVE delivery (depending on which LifeChoice Activox portable oxygen concentrator model you choose) for portability outside the home.
Best-in-Class Portability
Retractable handle and large wheels make base easily transportable from room to room
Under 5 lbs. POC provides patient with instant portability when detached from stationary base
Sleek, low profile base design incorporates optimized intake and exhaust vents for maximum noise suppression
All-in-One Solution
Modular design allows POC to nest in base, limiting clutter and reducing footprint
Stationary base serves as POC docking station and charges both the POC and External Battery
For the Lowest Price Available - Call Today!
1-855-926-4367
Click here for more information on the lightweight
LifeChoice Activox Portable Oxygen Concentrator
Product Videos
Custom Field
Product Reviews